ER5 mobile platform for cobots
The world's newest product: the Cobot ER5 mobile platform, designed to maximize robot mobility
The cobot ER5 mobile platform is a compact mobile workstation for secure collaboration with robotic arms. ER5 is used in fully or partially automated production environments that require greater flexibility and rapid integration.
The ER5 is developed for both safety in robotic arms and maximum mobility. Integrated reels and handles make it easy to easily move and deploy the ER5. The ER5 comes fully assembled with trays, robot arm and control panel and can be moved without the use of a forklift or pallet truck.
The cobot mobile platform can be easily presented for production automation in, for example, processing machines that are close together and there is no space for the ProFeeder robot cell available.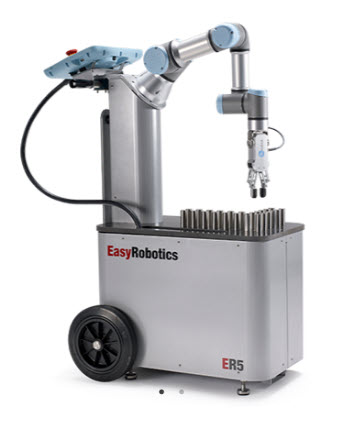 ER5 Mobile Platfrom by EasyRobotics
Developer for UR3 and UR5 from Universal Robots.
Designed for maximum mobility and flexibility for robots and cobots.
Easy automation startup
Minimun setup time in production turnover.
Easy and quick interchange and integrations of cobots in production.
Improves flexibility and efficiency in production.
Can be moved by a person without any mechanical help.
Patent pending.
ER5 demo platform Robot arm demo and process optimization.
ER5 is a functional toold for robot demonstrations and supports employee training, improving robot knowledge.
ER5 can be moved around different production areas. This way it can be estblished the most efficient production setup.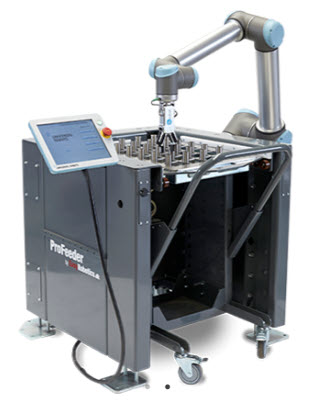 ER5 can be moved around the shopfloor and can be handled by a single person.
The ER5 series from EasyRobotics is composed by different mobile platforms developed for flexibility and mobility with robotic automation. The ER5 can be used with Universal Robots models UR3 and UR5.
The cobot mobile workstation is ergonomically built to ensure that one person can easily move the ER5 to processing machines or seminars. This is advantageous eg. vendors or course instructors.
ER5 is a robust, mobile and compact workstation that is used for demonstration and presentation purposes, enhancing collaboration between seminar participants and the production environment.
The ER5's ergonomic design makes it easier for course instructors and vendors to move the demo robot.
ER5's mobility and compact size allow demonstrations of robots and cobots in the customer's production environment.